Artistic Gymnastics Squad (Kingswood Stars)
Our gymnasts train and compete on the four pieces of apparatus that make up Women's Artistic Gymnastics; Vault, Asymmetric Bars, Beam and Floor. They also train on additional equipment which includes the trampette, tumbling and trampolining work.
Kingswood Stars Gymnastics Squad 
If gymnasts show potential to progress further in the sport, they may be invited by our coaches to join our Artistic Gymnastics Squad. Our squad girls train either 2 or 4 hours each week on the apparatus with more emphasis on the strength, flexibility and body conditioning required to do more complex gymnastics skills ready for competitions.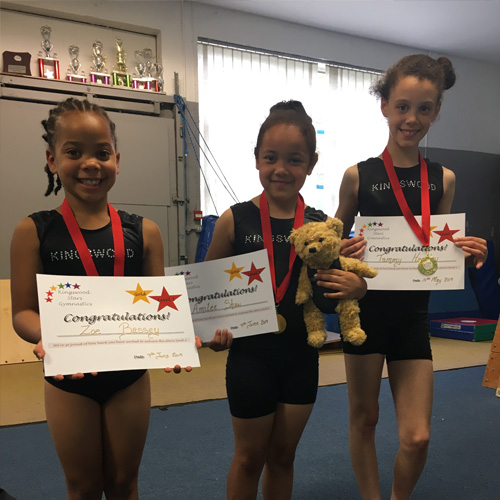 We have a team of British Gymnastics qualified coaches who work with the girls in small groups to encourage a love for the sport and a determination to improve.
Our girls compete in internal invitational competitions as well as external competitions in the South-West region. They have a great team ethos and support and encourage each other to do their best.
We have our own rainbow rewards scheme developed by our high-level coaches in which gymnasts work through levels 1 – 6 earning bronze, silver & gold medals and certificates at each level. This enables the coaching team to constantly assess progress and offers the girls a great sense of achievement and motivation to strive forwards.
We also have team mascot bears which are a recognising reward for hard work, new skills or generally going the extra mile and setting great examples to others.
The girls also enjoy other opportunities we offer, such as Christmas performances, shows and even the occasional photo shoot, all because we love what we do and want the whole gymnastics experience to be a fun one!
Keep an eye on our Facebook page for up to date events, competition results and news.